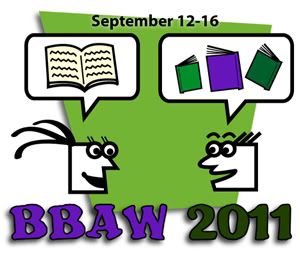 Book Blogger Appreciation Week is an annual celebration of book blogs.
It's a jam packed week dedicated to acknowledging the hard work and contribution of book bloggers to preserving our culture of literacy.
This year's celebration takes place September 12-September 16th.
The week includes guest posts, daily activities, giveaways, games, special podcasts, and an awards program exclusively devoted to book blogs.
I started Book'd Out just after this event last year but I remember the excitement surrounding it all. It allows book bloggers and readers to nominate their favourite blogs for any one of over
25 categories - view the list of categories HERE.
You simply need to
register
and then you can fill out the nomination form to give recognition to your favourite book blog. It's a huge event that should be lots of fun. The website has all the information you need to learn more about this celebration -
GO HERE to find out more!
Oh and of course feel free to nominate Book'd Out! Maybe you think I'm the Best Eclectic Book Blog but if you don't - that's okay too :)
ShelleyRae~